Gold sponsor Fat Beehive shortlisted as Charity Partner of the Year in the Charity Today Awards for work with Croydon Pride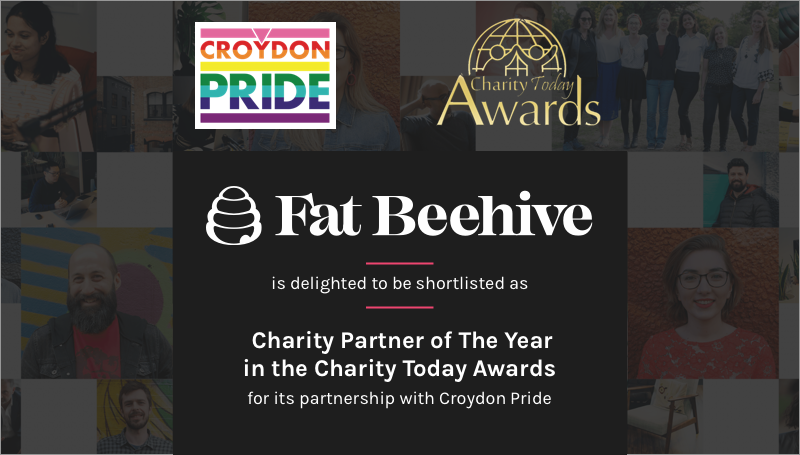 Fat Beehive has been shortlisted in the Charity Today Awards in the Charity Partner of The Year category for its partnership with the charity, Croydon Pride.
Fat Beehive is sponsoring the new Croydon Pride website which will help Croydon Pride engage with more people, improve their fundraising and increase the profile of the charity. The three year sponsorship arrangement includes the design and build of a new website (to be launched in June), branding, hosting and advice and support developing their digital strategy.
Fat Beehive is the UK's leading digital agency for the third sector and specialises in charity branding, website development and digital strategy.
Croydon Pride strives for LGBTQ+ tolerance and equality within Croydon's diverse communities by staging inclusive events, outreach and support. They are also responsible for organising Croydon PrideFest – London's second largest Pride Festival – a fixture in London's LGBTQ+ calendar of events.
Paula Goodwin, Chair of Croydon Pride said "It's fantastic to be shortlisted for these awards with our partner Fat Beehive. A well designed website will improve our effectiveness and reach more LGBTQ+ people. It will also help us promote and raise funds for our annual Croydon PrideFest event, which is not just about a great festival celebrating diversity, but also makes everyday life easier for LGBTQ+ people living in South London. I have been approached by same-sex couples who have told me that Croydon PrideFest gives them more confidence to be 'out' in Croydon and hold hands in public. Additionally, young LGBTQ+ people are more assured and less likely to be bullied in a town where we visibly support diversity."
Mark Watson, CEO at Fat Beehive said "We are delighted to be nominated for this award and to be able to support Croydon Pride. As an ethical company dedicated to producing delightful digital products for charities and other good people our team welcomed the opportunity to support LGBTQ+ people in South London and the fantastic Croydon Pride event."
This year's Croydon PrideFest will take place on Saturday 13thJuly. As well as the main event in Wandle Park, it will include a walking parade from Croydon Town Centre that is open and accessible to all.
The event receives no core central government funding, instead money is raised in a variety of ways including donations, sponsorship and fundraising events.