Whatever Pride means to you, whoever you love or however you identify, join us for the fourth PrideFest parade on Saturday 13 July at 12pm.
Parade Route
The parade sets off from Marks and Spencer in Croydon Town Centre (CR9 1SH) at 12pm (midday), moving down North End towards the junction of North End, High Street, George Street and Church Street where the tram tracks run. We will stop here for a few moments to allow groups towards the rear of the parade to catch up. At this point all tall flags, banners and decorations exceeding the height restrictions must be lowered due to the overheard tram line cables for everyone's safety. When ready, the parade will continue down Church Street, past Reeves Corner and under Jubilee Bridge. The parade will then proceed into lower Church Street, turning left into Waddon New Road and over the steps to cross the pedestrian bridge into Wandle Park where the main festival will be held.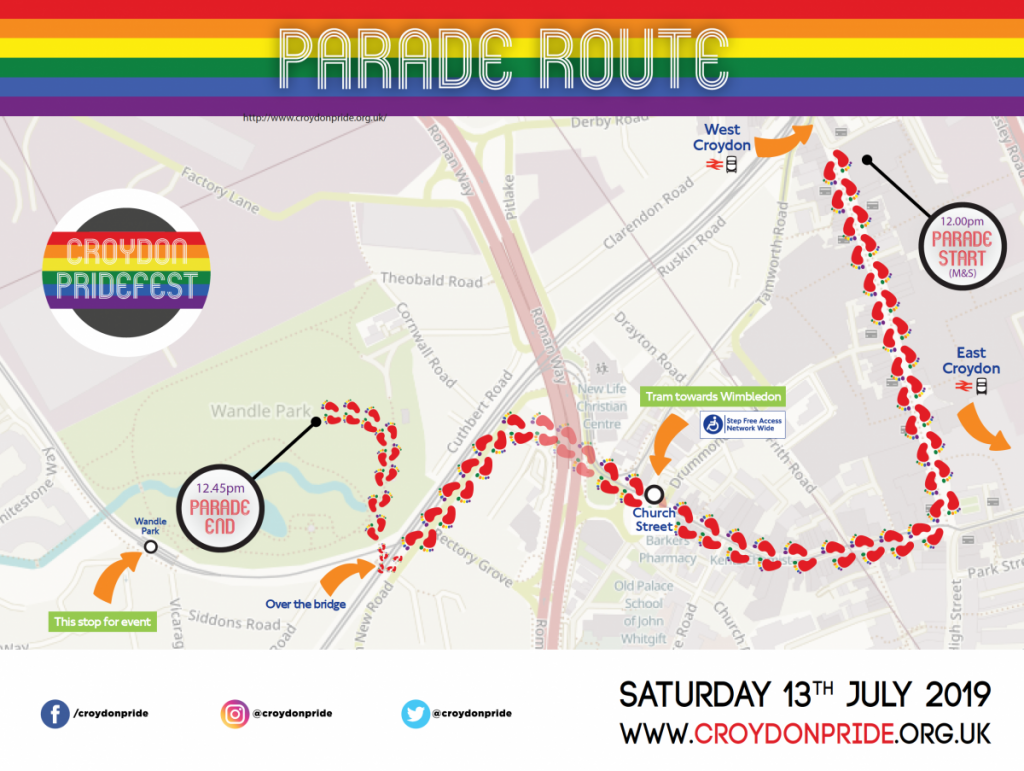 We recommend that spectators view the parade from North End, Church Street and Wandle Park where the parade is expected to finish at 12:45pm, or you can make your way to Wandle Park where you will be kept entertained with music, entertainment, street food, stalls and much more from 12pm.
Parade Accessibility
There will be temporary road closures in place to allow the parade to take place but please note that part of the parade route follows the tram tracks and there are stairs to climb. For those who are unable to manage the stairs or feel they cannot complete the route, you can take the tram towards Wimbledon from Church Street tram stop for one stop (Wandle Park). Croydon Pride is unable to reimburse travel costs but the latest single tram fare can be found on the Transport for London website.
Parade Registration
Whether as a group or an individual, participation in our parade is free and open to everyone who would like to support our LGBT+ community and be part of our amazing festival. We strongly advise all parade participants to:
Arrive early and be in position for 11:50am
Bring your own refreshments (no alcohol will be allowed)
Ensure you have adequate clothing and footwear, including sun protection and hats, so that you are prepared for all weather
Not bring prohibited items such as hand held pyro and/or flares as any individuals found to be in possession will face arrest
If you would like to join the parade, please register using our online registration form. Please read the information and guidance carefully as participation in the parade is at your own risk.